Step by Step Guide on how to wear Hijab Styles in 15 ways
Published on December 20, 2022
In this article, we will show you different Hijab styles and Step by Step Guide on how to wear Hijab Styles in 15 ways.
One of the modest types of Islamic clothing, Hijab covers the head of a woman. Women wear it to protect themselves from bad deeds and as a symbol of respect to their religion.
Currently, there are different hijab styles available online. Many people wear it based on the trend, season and as per matching outfits.
How to wear Simple Hijab Style
This is one of the easiest and simplest hijab styles to look gorgeous and modest at the same time. Take a rectangular scarf, place it over the head and secure both the ends of the scarf under the chin using a safety pin. Flip one end of the scarf behind your opposite shoulder. Now bring the same end to the other shoulder and spread it evenly to cover your chest.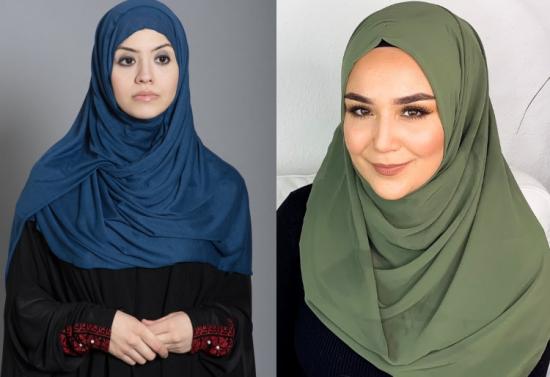 How to wear Hijab without a Pin
Late for office or class? don't have time to fiddle around with ball pins? Here is a quick solution. Take a long rectangular scarf and wrap your head with it. Throw one end of the scarf over one shoulder and you are all set.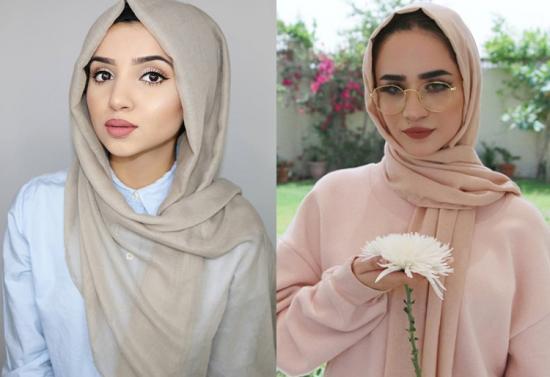 How to wear Hijab Style Which Covers Chest
What better way to sport this beautifully printed headscarf that shows off the exquisite patterns oh so brilliantly? After placing the scarf over your head, divide them into two equal parts. Spread one side of it across your chest and tiethe rest of it on the other side to display its gorgeous prints.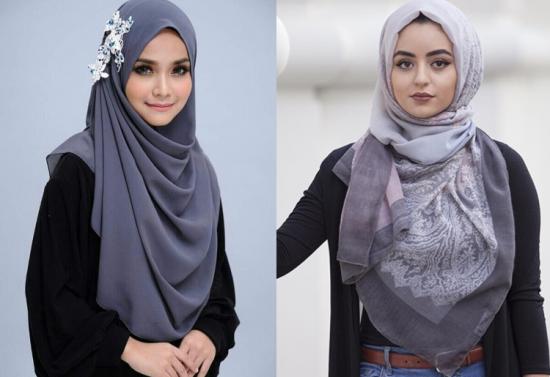 Hijab Style with Accessories
Accessorize your Hijab by adding shine and shimmering embellishments. Experiment using your jewellery or rings that can make any plain hijab look amazing. Style your hijab in any way you love. Add some accessories such as necklace on the top of the head like a tiara or inserting some rings or bangles in a loose corner of hijab in one-sided hijab style.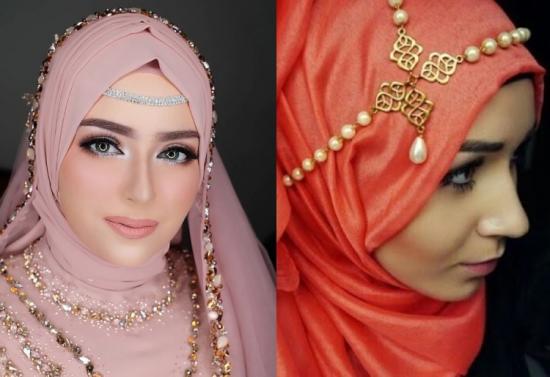 Side-Pinned Hijab Style
Apopular hijab style, side-pinned hijab style is loved by all due to its easy techniques.Wrap your scarf around your head using a pin and you are all set. Keep one side lengthy. It not only takes 1-2 minutes but also stays intact throughout the day.
How to wear Hijab Style Showing Earrings
For those who love to flaunt their gorgeous earrings, this Hijab style is definitely for you. It will not only accentuate your face but add shine to your look. Just tie your hijab in any way you want but make sure it is tied behind your earlobe. This way your earrings will pop up to complete your look.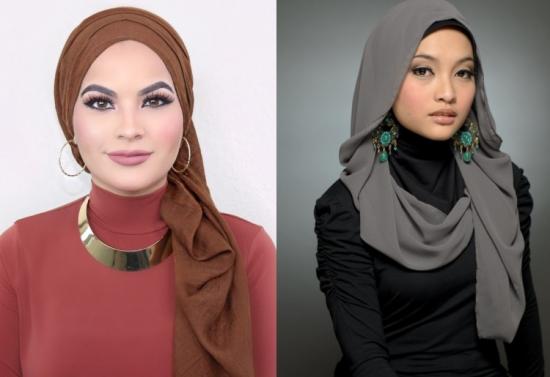 How to wear Hijab and Style with Gown
When you own a gown that makes you look like a fairy princess, then you need not just any hijab style but a royal one to complete the look. Go for a turban hijab style that is the same color as your gown. Accessorize it with an elaborate necklace that does the job of a sparkling tiara.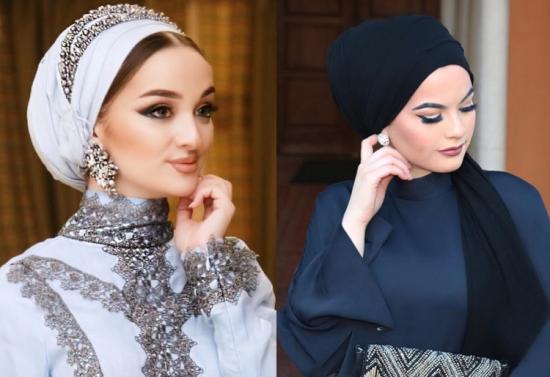 How to wear Hijab with A Saree
Many people think that nothing can go wrong when you are wearing a hijab with saree. But yes, there are few things to bear in mind when pairing a hijab with saree. For instance, make sure to choose a headscarf that carries a similar shade to your saree. Also, it is better to choose a hijab that doesn't contrast too much with the saree color as it can rob all the attention from the saree's beauty. Wearing a hijab gives a striking resemblance of a Ghoonghat that will highlight your overall beauty and look. Use a simple side-pinned hijab style. Add some embellishments and you are all set for this special occasion.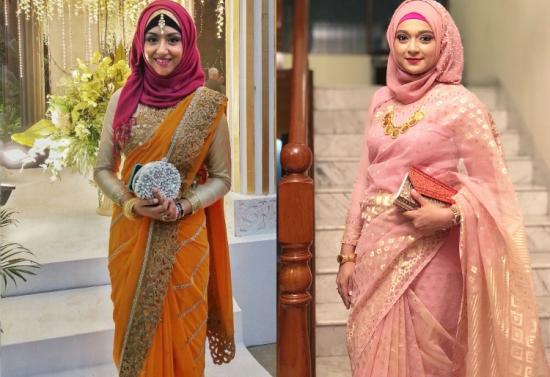 How to wear Arabic Hijab Style
Arab fashion is evolving and growing up all over the globe. Arab women love adding volume to their hijab styles. What they do is tie the hair as high as they can and wrap big scarves several times around their head. This makes hijab as big as possible.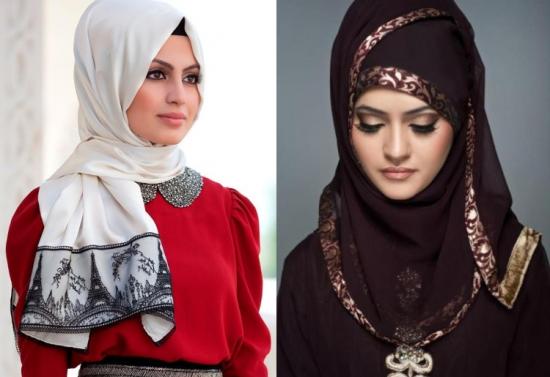 How to wear Hijab with glasses
A cool pair of shades not only will make you look trendy but glamorous as well. When you wear shades, make sure not to wrap the hijab too tightly around your head as it can hurt your ears. The best bet here is wearing a tube cap and wrapping the hijab loosely around the head. This way you can comfortably wear your glasses throughout the day.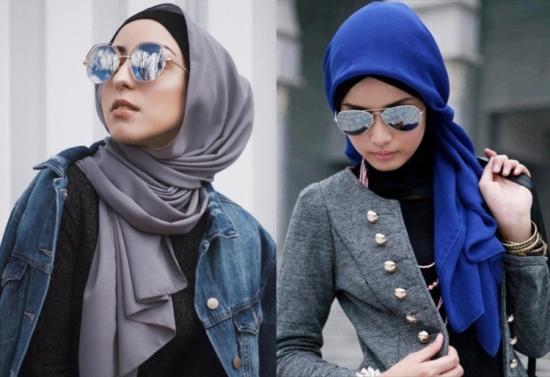 How to Wear Hijab with Jeans
If you think Hijab can look weird with jeans, you are wrong. Combining both conventional and contemporary styles, Hijab with jeans will not only make you look cool but also a trendsetter. You can choose turban hijab style with the ends hanging loose on one shoulder. Make sure to pick a scarf that adds a contrasting effect to the jeans for a bolder look.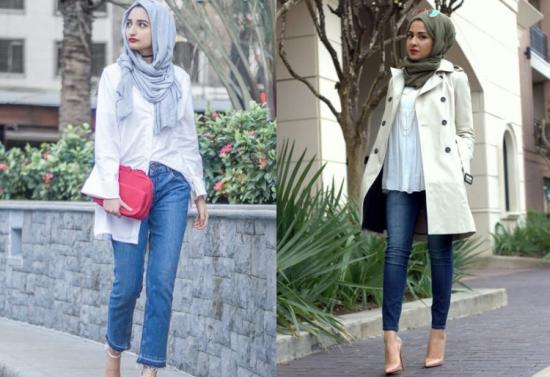 Modern Hijab Style
The contemporary woman is known to look classy, trendy while keeping things simple and minimal. Monochrome scarves with pins are trending nowadays. Simply drape a hijab casually over your head and toss both ends once around your neck. Let them fall loose on your chest to create a floaty hijab style.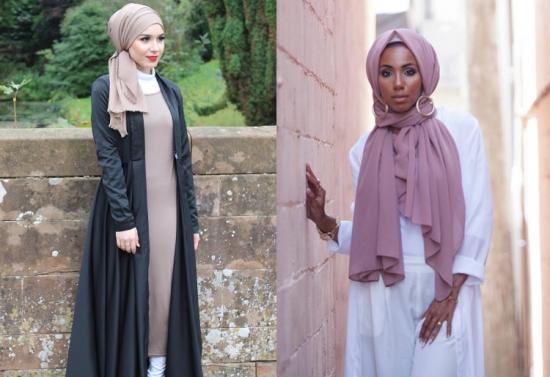 Winter Hijab Style
To beat the cold winter, a simple scarf just won't work. You will need a properly knit headscarf that wraps you tightly and snugs you into a warm cuddle. A layered and woollen hijab is an excellent choice at harsh winters. Choose your hijab and drape it in the way that it keeps you warm but make sure that you cover your head, neck and ears in the best way you could.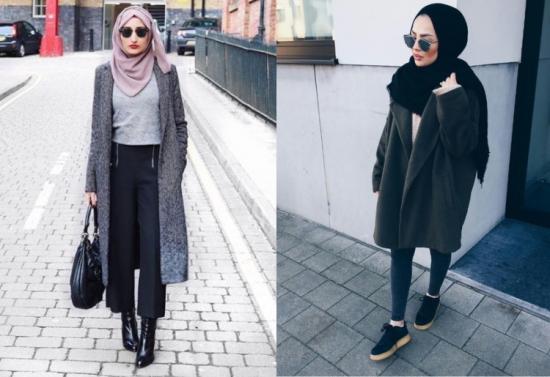 Summer Hijab Style
Cotton hijabs are best when it comes to beating the season of summer. If you are looking for the perfect summer hijab style that keeps you cool and doesn't trap moisture, then check out this style.Use a big, long and flowy cotton scarf to drape over your head. Do not wrap it tightly and keep it a little loose to maintain good airflow. Avoid using any pins.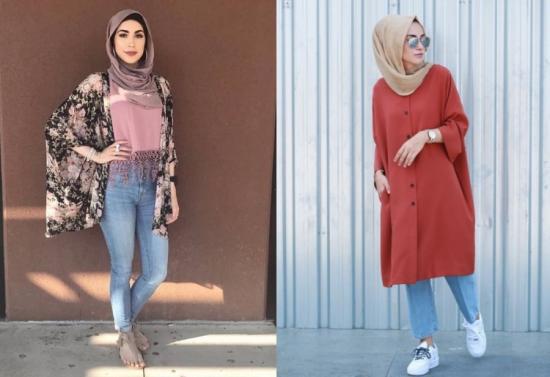 Airy Hijab Style
For those who are looking for a free-feeling hijab style, then this is also a good choice. It will keep your neck visibleso that you can wear a favourite necklace or shirt beneath it. Simply wear a tube cap to hide your visible hair and wrap the hijab loosely so that your neck and chin are visible.Avoid using pins.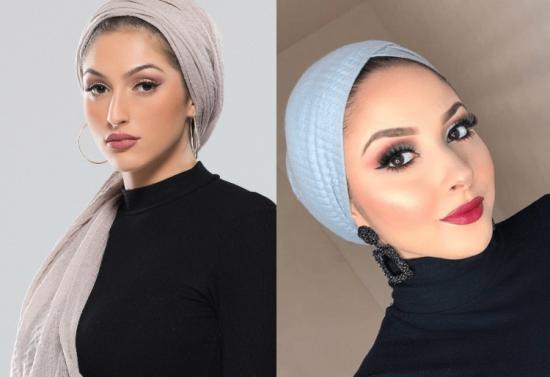 For those who are thinking about how to wearHijab with different styles, hope this helps. So,don't be boring with your Hijab and look new every day.