11 Ways on How to Wear Hijab with Palazzo Pants
Published on September 05, 2020
Trending is palazzo pants that are not only modern but modest as well. Many hijabi fashion bloggers are loving palazzo pants and pairing it with hijab. If you are wondering how to wear hijab with palazzos, then we give you 11 ways to pair your hijab with palazzo pants.
Though worn in the 70s, palazzo pants have now again become a sensation among youngsters. Available in various prints, designs, patterns and shades, palazzos are combined usually with loose shirts and fancy tops. Basically, wide-load pants, palazzo pants effectively cover you from the waist to the toes.
Winter look with Palazzo and hijab
Simple patterned palazzo pants look great with a solid-colored warm shirt and matching hijab. This girl shows you can look uber chic with palazzos.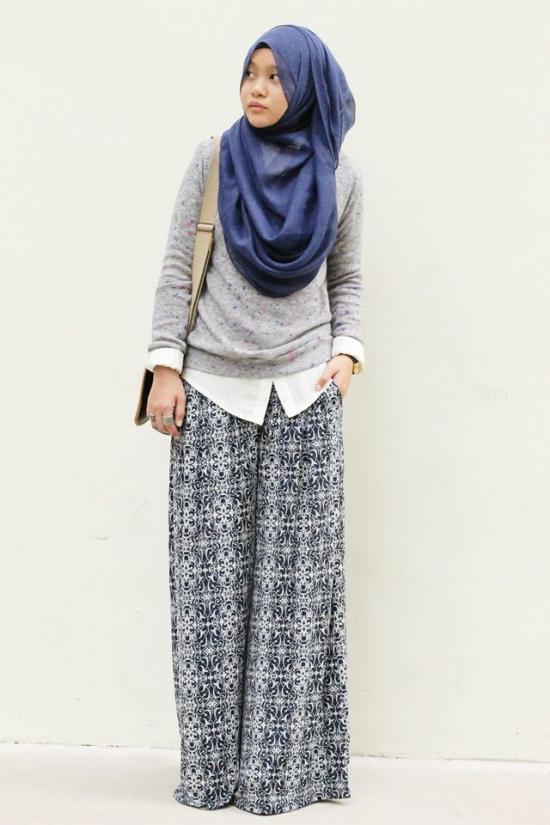 Street style palazzos with hijab
Want to look rocking and stylish? Pair your solid-colored palazzo with funky T-shirt/top and complete it with a jacket or shrug. You can wear complementing hijab to look smart in street style.
Hijab with palazzo pants as party wear
Planning to go to a party? Try this floral-printed palazzo pants with a solid-colored top that is simply stunning.
Palazzo pants with hijab for work
Combine western long shirt with chicken palazzo and pair it with a complementing hijab. It is the best outfit to wear for the office.
Silk hijab with Palazzos
Suitable for any event, this simple and sophisticated outfit is absolutely stunning.
Black outfit with palazzo pants and hijab
Take a look at this evergreen black and white combination. The black palazzo and shirt are completed with white hijab and a brown belt that makes the overall outfit look amazing.
Crinkled shirt with hijab
Check out this crinkled designed shirt that is paired with palazzo pants and matching hijab. Sheer perfection.
Casual palazzo pants with hijab
With the color of the season - Red, pair your red palazzo pants with a polka dot white and red top and nude-colored hijab.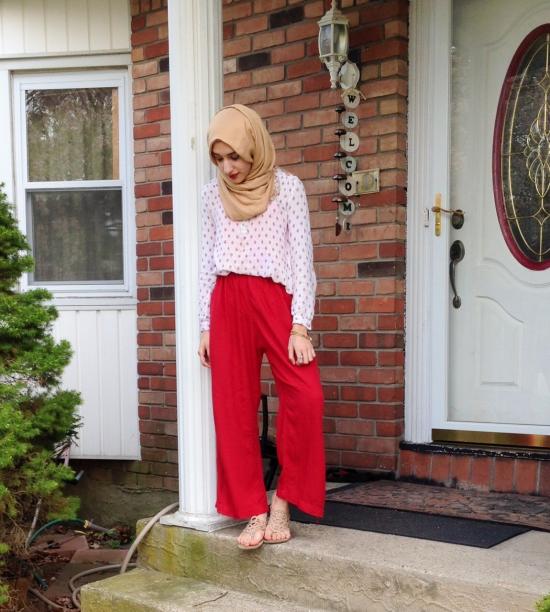 Printed Palazzo pants with hijab
Looking to hang out with friends? Then, this printed palazzo looks great with solid-colored top and matching hijab.
White shirt and Maroon pants
Create a style statement with this white formal shirt and maroon-colored palazzo pants. Complete the look with maroon hijab to enhance the look.
Printed hijab with palazzo pants
Last but not the least, how about keeping your outfit plain while highlighting the hijab? One of the best fashion ideas, pair your solid-colored shirt and palazzo pants with printed hijab.